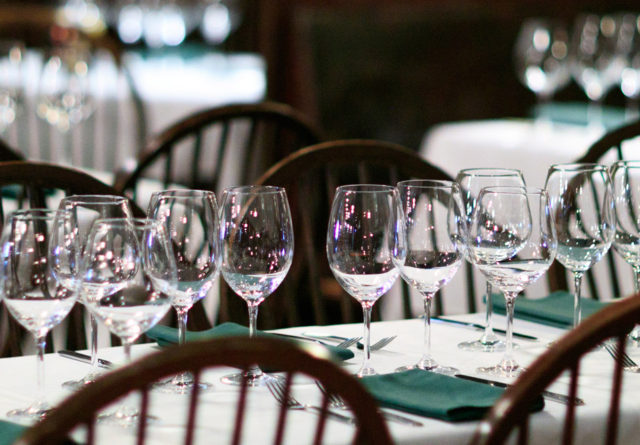 Events & Special Dinners
We may be old, but we still like to party.
Reserve your spot for one of our monthly wine events, where we bring in rotating chefs and wineries. Spots fill up fast, so act quickly! Call us for more information.
Support Sonoma Dinner
Make your reservations today
Call (636) 532-7684
#SUPPORTSONOMA
It has been a horrible few weeks for our many winery friends in California's Sonoma County.
fire damage is significant, but business disruption and loss of tourism have been 
monumental. Annie Gunns' is part of a locally organized effort named
#SUPPORTSONOMA
to promote the amazing wines of Sonoma County. please join us at Annie Gunn's on 
Wednesday, January 15th, 2020
6:30 in our atrium
for a special wine dinner featuring some of our favorite Sonoma County wineries paired with Chef Lou's creative menu                
Representing Pinnacle Imports, and to guide us through our tour of Sonoma,
our guest for the evening will be
Amy Simpson
Ron Rubin Pinot Gris 2017 Russian River Valley 
Bedrock Sauvignon Blanc 2018 Sonoma Valley 
Ramey Chardonnay 2016 Russian River Valley 
Peay Pinot Noir 2017 Sonoma Coast 
Marietta 'Game Trail' Estate Grown Cabernet Sauvignon 2016 Yorkville Highlands 
Limerick Lane Estate Zinfandel 2016 Russian River Valley 30.00
The cost for this memorable night with be $150 per person
Not including tax or gratuity
Please call 636-532-7694 for reservations
16806 Chesterfield Airport Road
Chesterfield, MO 63005
EVENTS COMING UP SOON
Rombauer Dinner
Thursday, March 12, 2020
Silverado Winery Dinner
May 2020
---
WANT TO BE THE FIRST TO KNOW ABOUT FUTURE EVENTS?
SIGN UP FOR OUR EMAIL NEWSLETTER BELOW